WHY CERAMIC?
Out of all the flooring materials, ceramic is remarkable for its resistance to wear and its easy maintenance. Having weathered many a fashion, ceramic tile is still popular in all of today's trends. From traditional Mexican ceramics to mosaics, the choice of style and colour has never been greater. However, it's important to choose your product wisely.
HERE'S WHAT YOU SHOULD KNOW BEFORE YOU SHOP FOR TILES.
BISQUE AND GLAZE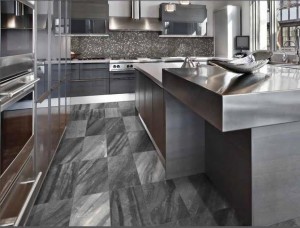 Ceramic tiles have two parts: the bisque and the glaze. Le biscuit est fait de terre cuite et forme le corps de la tuile. and can be made of porcelain or stoneware. Porcelain is a glazed vitrified earthenware and is generally harder than stoneware. This is why porcelain bisque is often chosen for commercial or high-traffic areas.
The glaze protects the bisque from water and wear. The glaze also gives the ceramic its many colours. Since it is very hard and not porous, porcelain tile does not require glaze. Stoneware however cannot be used without protection, as it will stain quickly. If not glazed, the tile must protected with a sealant at installation. Unglazed stoneware tiles are called terracotta. They come in many shades of beige, brown and orange, from countries like Mexico, Spain, Italy and Tunisia.
Contrary to what many salespeople say, tile resistance is not determined by country of origin, but by the nature of the clay and the temperature at which it is fired. Similarly, thickness does not guarantee hardness. Some 9 mm (3/8 in.) thick tiles will be harder than others that are 12 mm (1/2 in.). An abrasive resistance test produces a PEI rating that ranges from 1 to 5. The PEI rating indicates where the tile should be installed. Grade 1 and 2 tiles are good for wall cladding, while Grade 3 and 4 tiles can be installed on walls, countertops and residential floors. Grade 5 tiles are intended for exterior floors or commercial spaces.
THERE ARE TWO MAIN TILE TYPES THAT CAN BE CLASSIFIED AS FOLLOWS:
TERRACOTTA:
Terracotta is a ceramic tile of ordinary clay, whether yellow, ochre or red, mixed with sand. It is baked in a single firing at around 850–900 °C. To be used in tiling, this porous material must be treated to resist moisture and stains. It is often thicker than stoneware tiles. Its colour will be lighter or darker depending on where in the kiln it was fired, reflecting its temperature rise and thus its strength. There are several types of terracotta tiles:
Tomettes are small octagonal squares that are predominantly red.
Emaux are covered with a hard coating and baked in the kiln, and can be used to make mosaics. Before firing, the terracotta is covered with a lead- or tin-based coating that lends it a shiny white look and makes it watertight. It is fired once, at around 1,200–1,250 °C.
STONEWARE:
Stoneware is another kind of ceramic tile. There are two main types:
Cérame porcelain stoneware is made of clays containing the mineral compounds feldspar and quartz, and
is water and stain resistant. Fired at a high temperature, around 1,300 °C, the finished pressed stoneware tile is so dense and hard it even stands up to frost. In addition, it has an extremely low level of porosity and is non-slip.
The stretched technique of pressed stoneware has the same composition as cérame stoneware tile, but,
after being mixed, the components are pressed into a die before being moulded. This manufacturing process gives this stoneware a rustic, undecorated appearance.
CERAMIC TILE IS UNDENIABLY MORE ADVANTAGEOUS THAN OTHER TYPES OF FLOORING
The biggest advantages are:
Durability – Properly installed ceramic tile will outperform and outlast almost any other flooring designed for the same purpose. And it will resist water and moisture.
Easy maintenance – Ceramic tile is a low-fuss material. However, even glazed vitrified tile is somewhat porous and requires care and attention, especially in high-traffic areas.
Environmentally friendly – Ceramic tile is made from natural materials and repels odours, allergens and bacteria.
Beauty and versatility – Modern ceramic manufacturing technology has made it possible to create an almost unlimited range of colours, sizes, styles, shapes and textures. This means you can express your own personal style or opt for a understated look with universal appeal that adds value to your home.
Fire resistance – Ceramic tile does not burn or emit toxic fumes. Even hot pans or dishes cannot scorch or melt the surface of glazed ceramic tile. This can be reassuring if you cook a lot.
THERE ARE THREE TYPES OF CERAMIC TILES: GLAZED, UNGLAZED AND PORCELAIN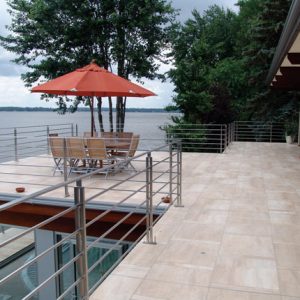 Vitrified glazed tiles are covered in a glass material and dyes that give them colour and finish. These tiles come in a matte, semi-gloss or high-gloss finish. They can be more stain and moisture resistant than unglazed tile. Glazed tile can also have various finishes. A high-gloss finish can be more slippery and less apt at hiding scratches, while a matte or textured finish offers better traction and hides scratches and dirt better.
Unglazed ceramic mosaic tiles are dense and very hard. They come in a variety of coatings and textures. Usually, they are installed in outdoor areas since they offer less protection against stains than glazed tiles. Unglazed ceramic tiles have good anti-slip performance, but require sealing to help prevent staining.
Porcelain tile is made o 50 % feldspar and is fired at a much higher temperature than regular ceramic tile. This makes porcelain tile harder and denser than other tiles. Because of its very strong composition, porcelain is more resistant to scratches and temperature extremes. Their high performance and low water absorption ratings make these tiles a wise choice for your home. Some porcelain tiles are also versatile for indoor or outdoor use, as well as in high-traffic or commercial areas.
STYLES OF CERAMIC TILE
The look of natural stone is very popular, but some customers prefer ceramics to stone because of its price and ease of maintenance. Ceramic and porcelain manufacturers have created tiles with textures, colours and patterns that mimic natural stone products. Slate, travertine and marble are just some of the sought-after ceramic and porcelain tile styles.
Outdoor tile generally has non-slip finishes to increase safety when wet and it is sometimes installed on decks, walkways or in pool areas. Frost resistance is another important feature of ceramic tile designed for exterior use.
A WORLD OF OPTIONS
Combining styles and patterns of ceramic floor tiles with countertop and wall tiles can also produce beautiful results and bring an aesthetic balance to your room.
THINGS TO KEEP IN MIND WHEN BUYING
When you are ready to make a purchase, be sure to calculate the number of tiles your project requires and to order 5–10% more based on the surface area. In addition to breakage, note that merchants have little control over tile availability. A product may be available one week and gone the next. Keep your extra tiles in a safe place so you can repair any damage.
| TYPE OF CLAY | TEMPERATURE INTENSITY | POROSITY |
| --- | --- | --- |
| raw | sun drying | 50 % = very porous |
| common earthenware | low-temperature earthenware (700-750 °C) | up to 15 % = porous |
| common earthenware | medium temperature (1000-1200 °C) | from 6 to 10 % = porous |
| stoneware | high temperature (1200-1300 °C) | from 1 to 2 % = partially vitrified |
| porcelain | very high temperature (1300-1400 °C) | less than 1 % = vitrified |